Black power, English practicing
This activity was designed to practice the present tense (and a little bit of present continuous) in English. The objective is to know more about black culture in the US.
Part I. – Listening Comprehension
Activity 1.
Listen to Nina Simone, but first… Do you know who is she? Read a bit about her.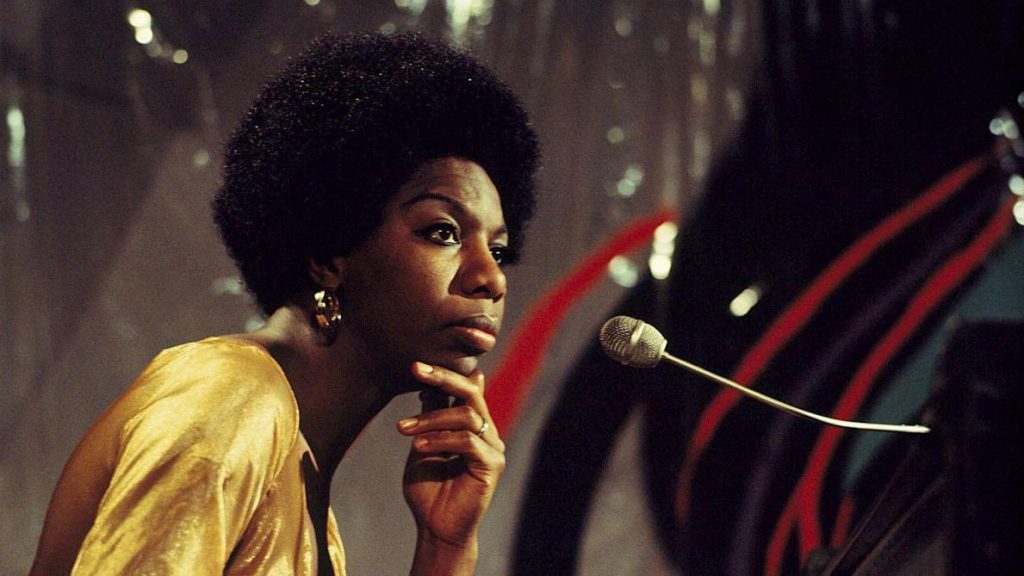 Nina Simone (1933-2003). North-American.
"The High Priestess of Soul," Nina Simone was a singer, pianist, songwriter, and civil rights activist. Mostly known as a jazz singer, her music blended gospel, blues, folk, pop, and classical styles. No popular singer was more closely associated with the Civil Rights Movement than Simone." womenhistory.org
"She released the iconic protest song "Mississippi Goddam" in 1964, in reaction to the bombing of the Sixteenth Street Baptist Church in Birmingham, Alabama and the assassination of civil rights leader Medgar Evers, both in 1963. The song expressed her frustration with the slow pace of change in response to the efforts of the Civil Rights Movement. She famously performed "Mississippi Goddam" at a concert on April 7, 1968, three days after the assassination of Martin Luther King, Jr."
Excercise. Respond true or false in the next question set.
Activity 2.
Here is the lyric of the song "Mississippi Goddam" but some actions are missing in the text. Listen what Nina Simone sings and fill in the text writting the verbs. They are in simple present tense and some of them are conjugated in present continuous. You can write the pronouns and the verbs (separated or contracted).
An advice: 
read first, then listen, and then listen again and write. Stop and resume if needed.
The Excercise
Part II – Reading Comprehension
For the next excercise we are going to use the event description of Sparks & Wiry cries feat Schomburg Center, in NYC. The focus is to develop your reading comprehension.
Activity 1
Read, check the suggested vocabulary (words highlighted in red, which you can click and read the meaning inserted) and answer the multiple choice and true/false questions.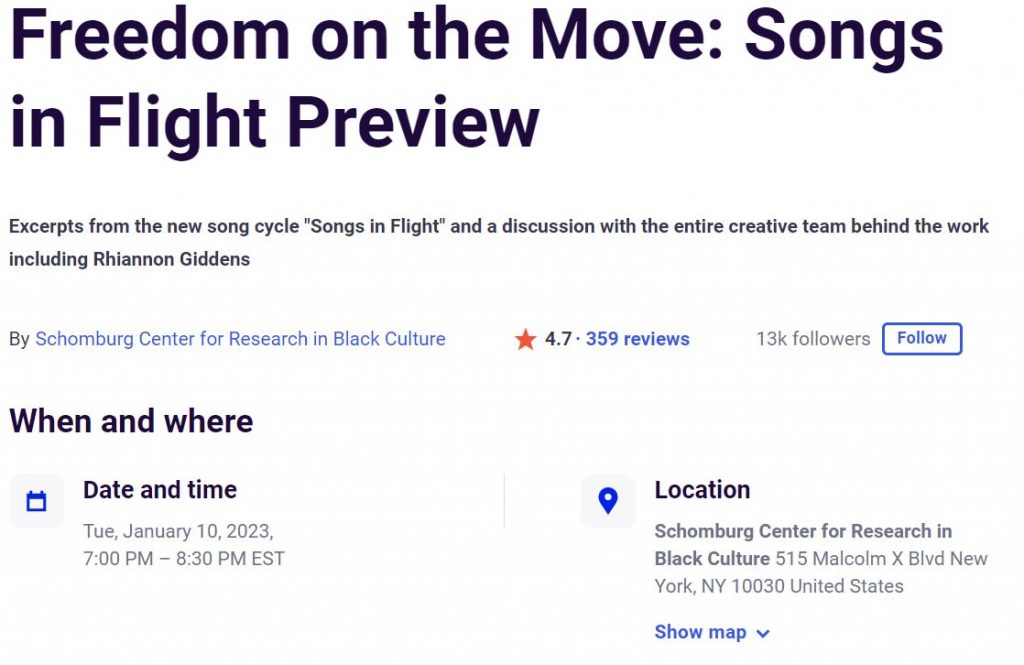 IN-PERSON
Conceived and commissioned by Sparks & Wiry Cries, Shawn Okpebholo's new song cycle, Songs in Flight, features works that respond to selected primary source materials from Freedom on the Move (FOTM) database. The database consists of more than 30,000 "runaway ads" placed during the period of slavery and acts as written records of fugitive enslaved people.
Join us for a preview of Freedom on the Move: Songs in Flight at Schomburg Center. The free event includes excerpts from the new song cycle and a panel discussion with Shawn Okpebholo and the creative team that help tell the stories and contextualize items from the database that move us back and forth in time. The program includes Dr. Tsitsi Ella Jaji, curator, associate professor at Duke University and poet, singer and multi-instrumentalist Rhiannon Giddens, soprano Karen Slack, countertenor Reginald Mobley, baritone Will Liverman, pianist Howard Watkins, and Dr. Ed Baptist, lead FOTM database historian and professor of history at Cornell University.
PUBLIC NOTICE AND DISCLAIMER
FIRST COME, FIRST SEATED Events are free and open to all, but due to space constraints registration is requested. Registered guests are given priority check-in 15 to 30 minutes before start time. After the event starts all registered seats are released regardless of registration, so we recommend that you arrive early.
GUESTS Please note that holding seats in the Langston Hughes Auditorium is strictly prohibited and there is no food or drinks allowed anywhere in the Schomburg Center.